U.S.
Union Pacific CEO to leave after push from activist shareholder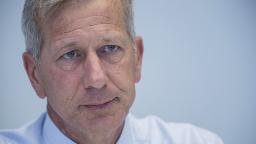 New York
CNN
 — 

Union Pacific shares jumped 10% in premarket trading Monday after the railroad company announced CEO Lance Fritz will leave the company by year-end, following a call by an activist hedge fund for his ouster.
Union Pacific just reported a record profit for the second straight year. But the hedge fund, Soroban Capital Partners, put out a statement saying that Fritz had lost the confidence of "shareholders, employees, customers, and regulators."
"UNP's total shareholder return has been the worst in the industry," said Soroban's letter to the board. "Among all S&P 500 companies, UNP is rated by employees as the worst place to work and has the lowest employee CEO approval rating (ranked 500th out of 500 in both)," said the letter. And it said that the Surface Transportation Board, one of the regulators of freight railroads, ranked Union Pacific as providing the worst service among the major railroads.
Soroban only owns about 1% of Union Pacific's shares.
"It is my honor and privilege to serve this great company. I am proud of our team and all we have built together," said Fritz in a statement. "Union Pacific has been my home for 22 years and I am confident that now is the right time for Union Pacific's next leader to take the helm."
Union Pacific said its process of looking for a new CEO had been ongoing for a year and that it decided to make a public statement in light of Soroban's public call for a change.
"The Board is grateful to Lance for his unwavering leadership, dedication and oversight in driving our company forward over the last eight years as CEO. Lance created an environment that has allowed Union Pacific to make a measurable impact with our customers, communities and employees alike," said Michael McCarthy, lead independent director of the Board. "He has capably led our company during a time of significant challenge and change."
But, overall, the level of service and on-time performance in the freight railroad industry has been declining for years, as the railroads attempted to trim costs and staffing.
Despite the industry's record profits, stocks in major freight railroads have lagged other sectors. Shares of Union Pacific

(UNP) are down about 20% over the last 12 month through Friday's close, even with a rebound in share price so far in 2023. That's worse than the drop in share price at other major railroads like Norfolk Southern

(NSC) and CSX

(CSX).
As far as employee relations, Union Pacific was seen as a leader among freight railroads in contentious labor negotiations last year that would have resulted in an economy-crippling strike had Congress not stepped in and imposed an unpopular contract. The contract granted employees an immediate 14% raise, including back pay, but denied them the paid sick days they had sought.
Union Pacific and other railroads argued during the negotiations that it couldn't afford to meet union demands for paid sick days, even though the unions estimated it would cost the entire industry $321 million a year at a time when the railroads are each making billions of dollars in profits.
Union Pacific last year earned a net income of $7 billion, up about $500 million, or 7%, from the previous record profit it posted for 2021. Total employee compensation for the year came to $4.6 billion, far less than the $6.3 billion that Union Pacific spent repurchasing shares of stock in the period.
Last week, Union Pacific reached an agreement with two of its smaller unions granting their members up to four sick days a year, as well as greater flexibility to use three personal days as sick days without prior notice and approval.
"We will continue to work with other unions to address paid sick time solutions," according to the company's statement on sick pay last week. The move came after another major railroad, CSX, reached deals granting sick days with six of its unions. UP did act before a third railroad, Norfolk Southern, reached a deal with one of its unions on sick days in the wake of a major train derailment in East Palestine, Ohio, which released toxic materials into the area.
Source link