World News
'Five killed in Iran protests over death in custody'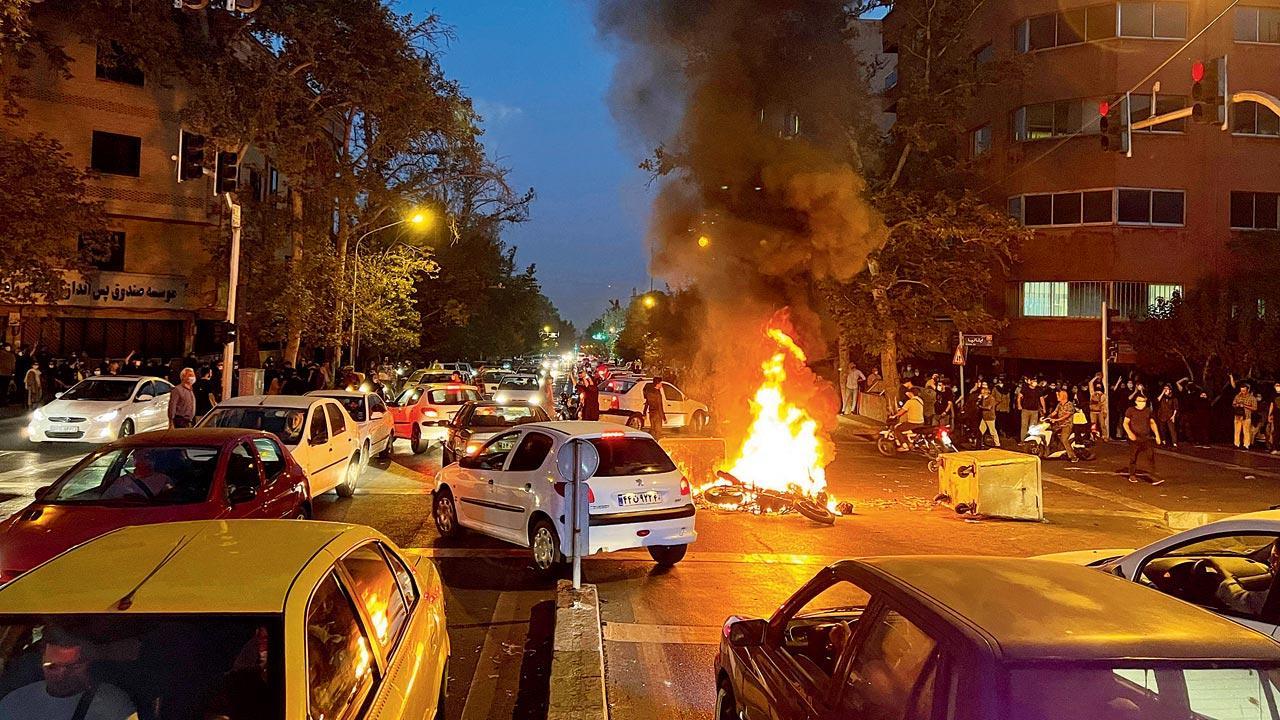 Five people were killed in Iran's Kurdish region on Monday when security forces opened fire during protests over the death of a woman in police custody, a Kurdish rights group said, on a third day of turmoil over an incident that has ignited nationwide anger.
Mahsa Amini, a 22-year-old from Iran's Kurdistan province, fell into a coma and died following her arrest in Tehran last week by the morality police, sparking demonstrations in numerous areas including the capital. Two of the people were killed as security forces opened fire on protesters in the Kurdish city of Saqez, Amini's hometown, the Hengaw Human Rights Organization said on Twitter. It said two more were killed in the town of Divandarreh "by direct fire" from security forces, and a fifth was killed in Dehgolan, also in the Kurdish region. There was no official confirmation of the deaths.
The official news agency IRNA said there were "limited" protests in a number of cities in seven provinces that were dispersed by police. State TV said a number of protesters had been arrested but rejected "some claims of deaths on social media" by showing two injured youths who denied reports they had been killed.
In the nationwide condemnations of Amini's death, the Persian hashtag #MahsaAmini reached nearly 2 million Twitter mentions. The police said Amini fell ill as she waited with other women held by morality police who enforce strict rules in the Islamic republic requiring women to cover their hair and wear loose fitting clothes in public. But her father has repeatedly said his daughter had no health problems, adding she had bruises on her legs. He held police responsible for her death.
The governor of Tehran has accused protesters of attacking police and destroying public property during demonstrations ignited by the death of the young woman. Tehran governor Mohsen Mansouri, in a post on Twitter overnight, said "the main elements of tonight's gatherings in Tehran were fully organised, trained and planned to create disturbances in Tehran". "Burning the flag, pouring diesel on the roads, throwing stones, attacking the police, setting fire to motorcycles and garbage cans, destroying public property, etc. are not the work of ordinary people," he said.
Amini's death could raise tension between the establishment and the Kurdish minority, which human rights groups say have been long oppressed by Iran's leadership. The Islamic Republic denies persecuting Kurds.
UN office speaks
Acting U.N. Commissioner for Human Rights Nada Al-Nashif on Tuesday called for a probe. "Mahsa Amini's tragic death and allegations of torture and ill-treatment must be promptly, impartially and effectively investigated by an independent competent authority, that ensures, in particular, that her family has access to justice and truth," Nashif said. "The authorities must stop targeting, harassing, and detaining women who do not abide by the hijab rules," he added.
This story has been sourced from a third party syndicated feed, agencies. Mid-day accepts no responsibility or liability for its dependability, trustworthiness, reliability and data of the text. Mid-day management/mid-day.com reserves the sole right to alter, delete or remove (without notice) the content in its absolute discretion for any reason whatsoever
Source link