World News
Bizarre Storm Derecho Brings Hurricane-Force Winds Across US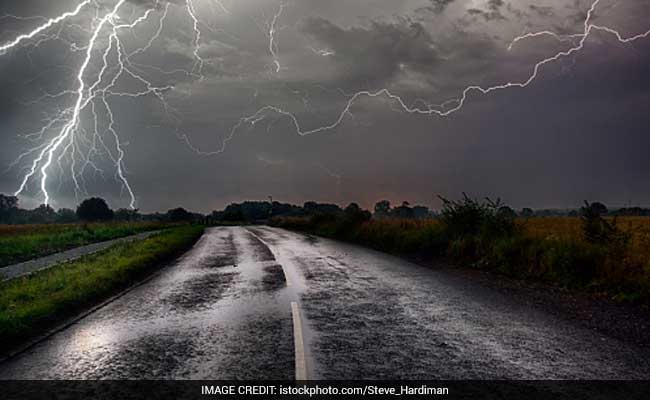 A rare storm phenomenon has brought blizzard warning to several states in the US. Called derecho, it is expected to cause significant damaging wind event across the central US, as per the National Weather Service. CNN said that the derecho will cause wind speeds of 80 to 110 mph (128-177 kmph) equivalent to a Category 2 Atlantic hurricane. The weather service said that a derecho is a widespread, long-lived wind storm that is associated with a band of rapidly moving showers or thunderstorms.
"Embedded tornadoes are anticipated as well, with the greatest potential for strong (EF2-EF3) tornadoes across southwest Oklahoma this evening," the Storm Prediction Centre said on its website.
A severe storm risk, one of the highest in recent times, has been issued for western Oklahoma and Texas. Cities under this risk include Oklahoma City, Tulsa, Lawton, and Enid in Oklahoma.
CNN said this is the first Level 4 out of 5 risk issued so far. Such a high risk alert was last issued on December 14 last year, when a tornado touched down in New Orleans.
More than 20 million people are under the threat of severe storms, the outlet further said.
Meteorologist Matthew Cappucci on Sunday night said in a tweet that Memphis, Texas, has registered winds of 114 mph (183 kmph). He also gave a list of other cities where the wind speed was more than 75 mph (120 kmph).
Wind gusts with the #derecho so far:
114 mph – Memphis, Tx.
81 mph – Sublette, Ks.
80 mph – Bridgeport, Ok.
79 mph – Clarendon, Tx.
78 mph – Hayne, Ks.
78 mph – Erick, Ok.
77 mph – Guthrie, Ok.
77 mph – Kiowa, Ok.
77 mph – Clinton, Ok.
75 mph – Gould, Ok.
Track w/@MyRadarwx. pic.twitter.com/Lp633k8rD5

— Matthew Cappucci (@MatthewCappucci) February 27, 2023
According to National Weather Service, derecho development is necessarily tied to the formation of bow echoes, which usually arises from a cluster of thunderstorms. Bow echoes are most frequently occur when atmospheric winds are relatively strong and unidirectional.
It also said that progressive derechos are much harder to forecast because of the environment that they thrive in. Many times, the best overlap of stronger winds aloft and hot and muggy conditions are in an area where the atmosphere is "capped".
Derechos in the US most commonly occur along two axes – one along the "Corn Belt" (from the upper Mississippi Valley southeast into the Ohio Valley), and the other from the southern Plains northeast into the mid-Mississippi Valley.
Featured Video Of The Day
AAP Workers Detained As CBI Preps To Produce Manish Sisodia In Court